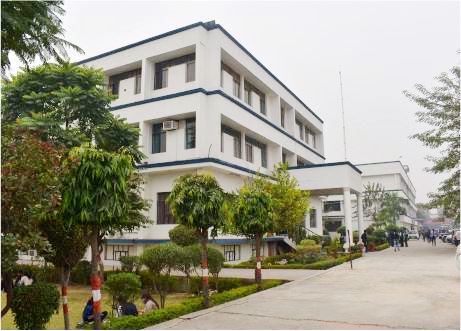 About
Us
IAMR Law College, a professional autonomous college functioning under the aegis of Ideal Educational Society, established in the year 2000 IAMR in parts rigorous and multi-disciplinary legal education with a view to producing world-class legal professionals, scholars & public servants. IAMR Law College empowers its students with knowledge, skills and vision to meet the challenges & opportunities.
Why Legal Education at
IAMR
IAMR has always aspired to excel in academics and has worked towards its goal to produce young lawyers who possess the intellectual genius and are morally conscious and socially responsible to ensure the rule of law.
We have a dedicated team of professionals who network with various industry and corporate partners for campus placements, internships, guest lectures and leadership lectures etc. To break away from the conventional classroom teaching, students are motivated into self learning through presentations, research, case studies, other simulation exercises. With a rich library at college, we stress upon reading and research and lead classroom teaching with discussions on judgments of various courts, social issues, latest developments, so that the students may comprehend law in an objective manner.
The college has achieved this goal by getting a fine balance between classroom learning and practical expertise.
Moot Court
Supreme Court & High Court Visit
Legal Aid Clinic Trips
Language and Computer Skill Classes
Free Legal Internship
Guidance for Competitive Exams
Guest Lectures
Mediation Cell, Jail, Police Station Visit
Rich Library
Experienced Faculty
Legal Debate/Quiz/Essay/Drafting Competitions
Echo-friendly classrooms
Placement Cell
Career Counselling Programme
Seminars & Conferences
Vision
IAMR Law College strives to create a community of committed professionals who are experienced to solve legal and community problems; to promote justice, and be sympathetic members of the society. The Institutional vision is to make Justice, a defining excellence of legal education & sanction every individual with Knowledge and assurance & also make this institution as a premier institution and the best among not only the conventional law colleges, but also among the corporate law colleges.
Mission
Our mission is to endeavor towards bringing social, political and economic change. This mission is achieved only with committed students who are keen towards their education. The faculty members and staff at IAMR give their best to the students through a fine combination of curricular schedule and co-curricular activities. The various cells regularly organize competitions and training programs.
Message from
Principal
IAMR Law College offers 5-year integrated B.A.LL.B. & 3-year LL.B. Degree, programmes. The College is affiliated to the Chaudhary charan singh University, recognised by Bar Council of India. In the Era of competition it is Paramount to equipped with appropriate knowledge habit attitude and the values to holistic development Co-curricular activities and extra circular activities organized by various clubs and societies facilitate the process of creative and critical thinking. it as a premier Institution of excellence in imparting legal education by nurturing students to meet limit less opportunities in legal profession, judiciary and academics for the youths.
IAMR Law College aims to set new standards of excellence and relevance in legal education . The study of Law at IAMR Law College would provide the students to enrich themselves to give better service to the people with wisdom which will help them to prepare for legal excellence and leadership. College is committed to provide best legal education under the guidance of dedicated team of Law Faculty and successful legal practitioners who will help in enriching students for achieving professional excellence for fostering justice for the common people.